April 26, 2022
Nomination Deadline for Master Farm Families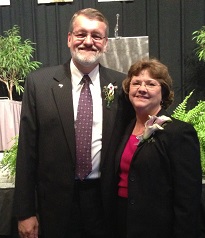 May 2, is the deadline for nominations of your local farm family deserving of the honor of being selected as a Kansas Master Farmer/Master Farm Homemaker! This is a great recognition program for LOCAL farm and ranch families sponsored by K-State Research and Extension and Kansas Farmer Magazine, with additional support provided by Kansas Farm Bureau, Frontier Farm Credit/American AgCredit, and the Kansas State Fair Board.
The nomination process and the on-line application can be found at https://tinyurl.com/Ksmff. The nomination including photos should be submitted completely on-line!
Don't miss this chance to recognize and honor your local farm/ranch families who have that long record of being great farmers/ranchers, extension supporters, and a positive influence within your community and beyond. No better way to demonstrate the value of extension, and in many cases, 4-H leadership locally. Nominations are due at COB on May 2, 2022!
If you have questions, contact Daryl Buchholz, dbuchhol@ksu.edu, 785-587-4913; or Sue Robinson, srobinso@ksu.edu, 785-532-5820.