November 15, 2022
You TOO Can DO Community Vitality Work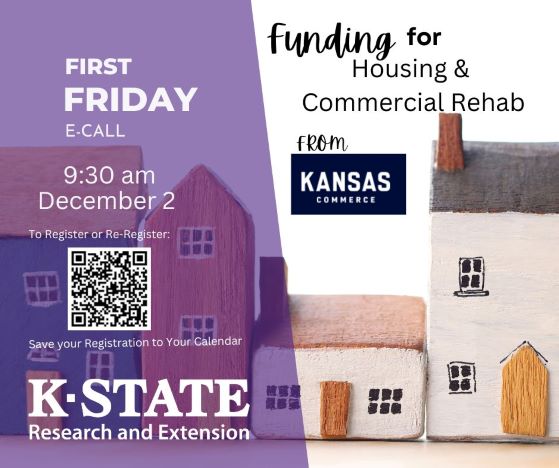 Is it true that there are two kinds of agents at K-State Research and Extension?
Those who "don't do" community vitality work. (It's not my job.)
Those who think everything they do is community vitality work. (Don't ask me to do more!)
I have a proposition for both: please put yourself on an email list to receive promotional materials for Grant Workshops and First Friday e-Calls.
On a monthly basis, Community Vitality specialists put out a promotional email for those with social media and newsletters to promote the next grant workshops and First Friday topics. It's great fodder for your newsletters and local social media pages and your community knows you are the agent of change and their link to state resources.
The purpose of First Friday e-Calls is to connect the state's experts, education and economic resources to local entrepreneurs and the communities who love them. The calls include small business resources and many community development resources to make your businesses succeed. All the calls are recorded. Check out these great recordings of 2022 topics:
Moderate Income Housing (An example of a town that created 16 new moderate-income houses and filled them.)
Using Trails to Bring People To Town
Get Your Business on Google Search and Maps
How and Why to Start a Commercial Kitchen
Rural Online Initiative Certification
Grant Workshops are hosted online periodically throughout the year. They are "hosted" by a local extension office and promoted locally, and anyone from across the state can attend.
If you'd like to be on these email lists, send an email to Nancy Daniels at nkdaniels@ksu.edu.