November 15, 2022
Fall Diversity Programs Office Update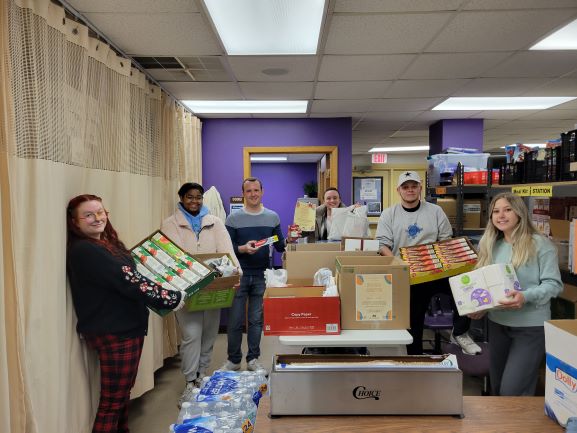 Happy Tuesday!
We hope you are doing well as the school holidays are quickly approaching. Throughout November, the K-State College of Agriculture (COA)/K-State Research and Extension (KSRE) Diversity Programs Office (DPO) and K-State Minorities in Agriculture, Natural Resources, and Related Sciences (MANRRS) Chapter have kept busy.
November 6-9, 2022, Dr. Zelia Z. Wiley, Assistant Dean and Director for Diversity, served as Keynote speaker for the diversity, equity, inclusion, and belonging (DEIB) session at the American Society of Agronomy, Crop Science Society of America, & Soil Science Society of America International Annual Meeting in Baltimore, Maryland. This event brought together leading and emerging scientific leaders who are working to advance agronomic, crop and soil sciences. The conference also featured Dr. Tiffany Carter, K-State COA alumna and previous KSRE Research Fellow, to speak during the DEI session. The DPO would also like to congratulate Tiffany Poydras, K-State Masters student in Agronomy and 2021 KSRE Research Fellow, for competing in the Research Poster Competition and receiving third place overall.
November 7-11, 2022, the DPO also partnered with K-State MANRRS and the Popenoe Entomology Club to host a Food Drive benefiting K-State Cats' Cupboard. The Food Drive was a success, providing more than 3 large boxes of food to K-State Cats' Cupboard.
November 9-10, 2022, the Navigating Difference diversity training was also held for KSRE professionals. This was the first in-person training since 2019. The training was adapted into a 2-day training rather than 3-days to remain adept at meeting the needs of the professional workforce as a need for shortening the training was noted in previous training evaluations.
November 13-15, the Dr. Zelia Wiley and Lonnie Hobbs, Jr., Ph.D. Candidate in Agricultural Economics and 2017 KSRE Research Fellow, are attending the 80th Annual Professional Agricultural Workers Conference (PAWC) in Tuskegee, Alabama. The PAWC is a conference committed to a world that values and promotes equal opportunity and equitable access for sustainable development of communities and natural resources. During the conference, Dr. Zelia Wiley will present a workshop over "1862 and 1890 Land Grant Partnerships," Lonnie Hobbs, Jr. will compete in the Gamma Sigma Delta student research competition as he presents over his research in Pet Food, and Dr. Wiley and Lonnie will partner to present a research poster surrounding the "DEIB Climate within the K-State College of Agriculture."
November 16, 9:45-10:45 a.m. in the Union Big 12 Room, the DPO Research Team will present during the KSUnite. The presentation will discuss results from the team's recent DEIB climate survey given to K-State College of AG students.
November 16, 6:00 p.m. in Waters Hall 137, the K-State MANRRS Chapter will host their annual Friendsgiving event. Additionally, the DPO will be presenting an Introduction to Diversity workshop at the Kansas Youth Leadership Forum held at the Rock Springs 4-H Camp on November 19, 2022.
The DPO has also been busy recruiting students for undergraduate and graduate studies in the K-State COA. Throughout fall 2022, the DPO will have reached students and professionals at Barton County Community College, Dodge City Community College, Garden City Community College, Wichita County High School, Prairie View A&M University, North Carolina A&T University, Langston University, Florida A&M University, Oklahoma State University, and Dubiski Career High School (Grand Prairie, Texas). We are recruiting from these institutions as they maintain largely diverse populations of students, overall helping create a more diverse and inclusive K-State College of Agriculture.
Thank you to the Office of Diversity and Multicultural Student Affairs for hosting three fall 2022 College for a Day events, in which the DPO and K-State MANRRS were able to present and/or have students sit on a panel to help educate 6-12 grade students about the K-State College of Agriculture. The College for a Day events included: November 4 - Kansas City 20/20, November 8 – Wichita East High School, and November 10 – Stucky Middle School College.
Thank you to all for your continued participation and support of our events. As we finish this fall semester, the DPO will share more diversity events. Join us on social media for more updates: Facebook: K-State AG Diversity Programs Office, Twitter: dpooffice, Instagram: dpo_kstate — or contact Zelia Wiley, assistant dean and director of diversity programs, at 785-532-5793 or zwiley@k-state.edu.