September 19, 2023
Celebrating K-State MANRRS Week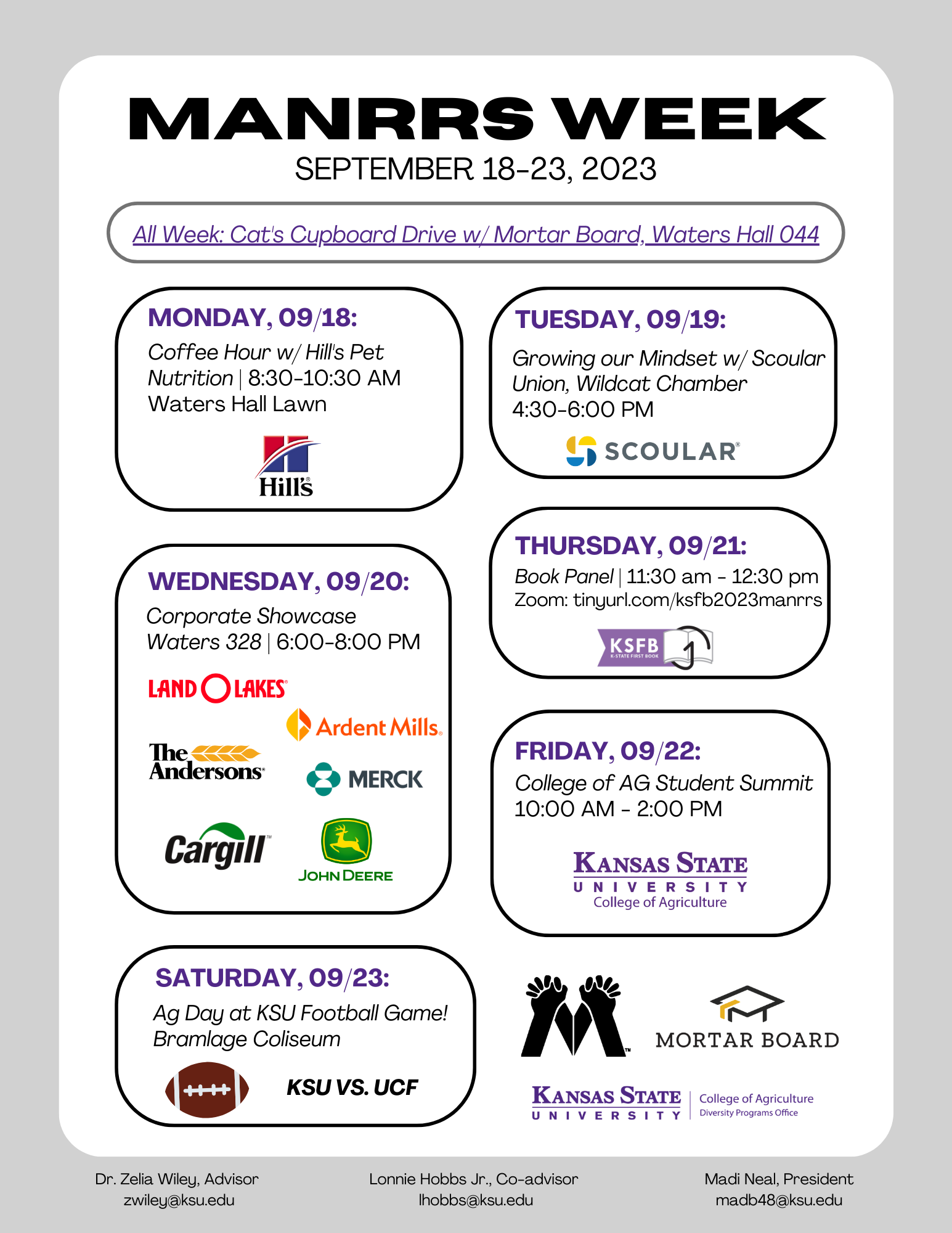 Happy Hispanic Heritage Month!
This week, September 18-23, is K-State MANRRS Week. Please join the Minorities in Agriculture, Natural Resources, and Related Sciences, or MANRRS, chapter and the College of Agriculture and K-State Research and Extension Diversity Programs Office for events each day throughout the week.

In honor of MANRRS Week, the group will also partner with the K-State XIX Mortar Board Chapter for a Cats' Cupboard drive. Please drop off your donations in Room 44 of Waters Hall from September 18-22.
The week's events are below.
Monday, September 18, we partnered with Hill's Pet Nutrition for a coffee hour. Free donuts and coffee were available on the Waters Hall lawn from 8:30-10:30 a.m. Students learned about K-State MANRRS and potential jobs and internships with Hill's Pet Nutrition.
Today, September 19, join the College of Agriculture for the 13th "Growing our Mindset" Diversity Forum. The forum will feature Hannah Osowski, Scoular's Emerging Leaders Organization and HR manager, as she leads a conversation surrounding the importance of diversity in the workplace. The forum will start at 4:30 p.m. in the K-State Union's Wildcat Chamber or via Zoom.
Wednesday, September 20, the K-State MANRRS chapter will host six corporate partners for the Fall 2023 Corporate Showcase starting at 6 p.m. in Room 328 of Waters Hall or via Zoom. The evening will include presentations about job opportunities and internships, as well as time for small group networking with recruiters. The featured companies are The Andersons, Inc., Ardent Mills, John Deere Co., Cargill, Land O'Lakes – Purina, and Merck Animal Health.
On Thursday, September 21, K-State MANRRS and K-State First Book will host a virtual book panel to discuss "They Called Us Enemy" by George Takei. The panel will be from 11:30 a.m. to 12:30 p.m. via Zoom. Please register online.
To complete the week's celebrations, the K-State MANRRS chapter and Diversity Programs Office will help celebrate the Ag Student Summit on September 22 and Celebrate Ag Day football game on September 23.

Stop by the booth and see us.
Other upcoming events include the MANRRS general body meeting featuring Seaboard Foods at 6 p.m. September 27; the HALO Encuentro on October 3 hosted by the Department of Student Belonging and Inclusion; the MANRRS Career Readiness Workshop at 6 p.m. October 4; and the Diversity Programs Office will present at the Michael Tilford Conference at Washburn University on October 6.
Finally, thank you to John Deere for hosting 10 K-State MANRRS delegates in Moline, Illinois, on September 14-15 for the inaugural MANRRS Deere Day. The students enjoyed visiting the John Deere headquarters.
Contact Zelia Wiley at zwiley@k-state.edu or 785-532-5793 for more information. View the Diversity Program Office's social media Linktree.