August 18, 2020
Kennelly Named Department Head for Plant Pathology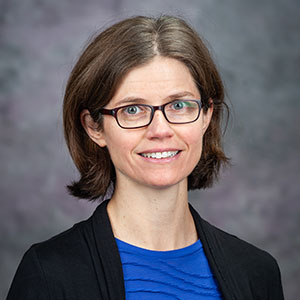 Megan Kennelly, the interim leader of K-State's Department of Plant Pathology for nearly two years, has been appointed to the position permanently.
Ernie Minton, dean of K-State's College of Agriculture and director of K-State Research and Extension, said Kennelly has been instrumental in expanding the depth and breadth of plant pathology and genetics at K-State.
"Over the past two years, Megan has demonstrated the skills and instincts required to be a successful leader as department head," Minton said. "She is very thoughtful and thorough, and always asks the right questions to inform her communications and decision-making. I look forward to working with Megan as she leads plant pathology in the coming years."
Since joining the department in 2006, Kennelly has earned several professional awards, served on the editorial board of five professional journals, given more than 350 extension presentations to horticulture professionals and developed innovative online educational resources for state, regional, and national growers.
She identifies plant diseases and provides management information for producers of fruit, vegetables, trees, ornamentals and turfgrass. Kennelly has served as major professor or co-major professor for eight graduate students and on advisory committees for ten others. She has authored or co-authored 36 journal articles and five book chapters and been a presenter or co-presenter for more than 60 scientific presentations.
Kennelly has been the lead or co-principal investigator on more than $4 million in external funding to support research, extension and education projects. Currently, she is the lead principal investigator of a $400,000 USDA-funded interdisciplinary project to provide research and extension experiences for undergraduates to train summer cohorts.
Barbara Valent, University Distinguished Professor of Plant Pathology, called Kennelly a "tremendous faculty advocate." Valent, who was named to the National Academies of Sciences in April based on her research at K-State, said she appreciates Kennelly's tremendous support for research.
Two years ago, Valent won a major national research award that she believes was instrumental in her being named to NAS. Together with Marty Draper, associate dean of Research and Graduate Studies and director for Research, Kennelly wrote and submitted Valent's application for the 2018 award.
"When I learned I had been elected to NAS, Megan was the very first person I called," Valent said. "Megan couldn't have been more excited for me."
"I look forward to continuing to work with everyone in the department," Kennelly said. "Every day I'm inspired by the creativity, commitment and enthusiasm of our faculty, students and staff. Even though I am not seeing everyone regularly now because of COVID-19, I am still energized by the high-impact work they are all doing in research, extension and teaching."
Kennelly earned a bachelor's degree in botany from the University of Wisconsin-Madison, a doctorate in plant pathology from Cornell University and served as a postdoctoral researcher at Michigan State University.