August 18, 2020
Kansas Forest Service Assists on Wildfires in Colorado and Other Western States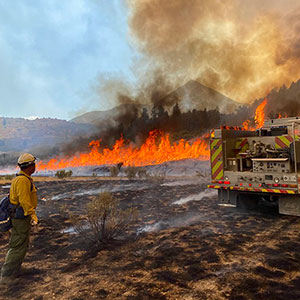 Each summer, wildland firefighters with the Kansas Forest Service answer the call for help from western states to manage wildfires.

KFS is the primary state agency with the authority to provide personnel and equipment to national wildland fire incidents. As of August 11, 32 full-time staff members and fire protection specialists with KFS assisted on 26 incidents, a total of 469 workdays.

"Qualifications and experience to help manage wildland fire and other all-hazard incidents at the local, state and national levels is not the typical skill set traditionally associated with university faculty and staff," said State Forester Jason Hartman. "The unique relationship between KFS and K-State allows us to provide incident response at a level of dedication and service in high demand across the country."

KFS is a state agency housed in K-State Research and Extension under the Kansas State University College of Agriculture.

Personnel serve in a variety of positions while on assignment, including hand-crew members, public information officers, timekeepers, engine bosses, geographic information systems specialists and more.

Rodney Redinger, an assistant fire management officer with KFS, received the first-ever national fire assignment for KFS in 2003 when he deployed with the Mid-Plains Interagency Handcrew.

Before accepting a full-time position with KFS, Redinger worked for several years as a wildland firefighter including several seasons as a hotshot. In addition to his duties for KFS, Redinger also serves as an operations section chief on a national incident management team.

"KFS leadership recognized the need for our fire program staff to keep our skills sharp and maintain current National Wildfire Coordinating Group qualifications," Redinger said. "There are many valuable skills and lessons we bring back from national fire assignments to the firefighters of Kansas, not only for training, but also to provide incident support when local authorities request assistance."

With a staff of 10 people, the KFS wildland fire management program offers training, firefighting equipment and incident support to 13,500 firefighters across 600 fire districts in Kansas.

Now in the 18th season of accepting national fire assignments, KFS personnel face a new kind of safety hazard for personnel as they accept assignments during an international pandemic.

While on assignment, crews and units operate as a "module of one," or family units, to reduce exposure to other resources within the incident and the public. The practice is the same concept implemented by families during the pandemic; by limiting exposures to others outside of the family unit, crews insulate themselves from exposure to the virus.

Maintaining the health and safety of crews is especially important as fire activity increased in the first weeks of August. Currently, 18 KFS personnel are assigned to the Pine Gulch and Grizzly Creek Fires in Colorado and the Red Salmon Complex in California. The Pine Gulch Fire has alone burned more than 30,000 acres to date, causing the evacuation of several communities in the area.

The Predictive Services at the National Interagency Fire Center predicts above normal significant fire potential across much of the Great Basin, northern California, Pacific Northwest and northern Rockies. This prediction indicates that KFS personnel will likely be called on to assist with wildfire response and management.

"No fire season is like another, but 2020 is more abnormal than most," Hartman said. "As they always have, the staff of KFS have stepped up to the challenge of providing response in the COVID-19 environment. I, and all Kansans, can be proud of the contributions of these professionals," Hartman said.

Follow the Kansas Forest Service on Facebook, Twitter and Instagram for updates on personnel currently assigned to wildfires.