November 30, 2021
Diversity Challenge: Try a New Food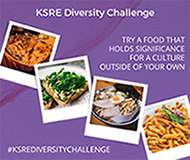 The first diversity challenge from the Diversity, Equity, and Inclusion Implementation Task Force was to learn a greeting in a different language. Thanks to all who participated! The winners of the challenge were:
Chisholm Trail Extension District agents
Jennifer Wilson
Linda Gilmore
Rachael Spriggs Clews
Now we want you to try a new challenge. As we celebrate the holiday season with families and friends, we challenge each of you to try a food outside of your primary culture! Below are a few resources to give you an idea of what a cultural food could be.
We hope you will not only try a new dish but also learn about the history and culture that surrounds it and to think about your own culture and what food is important to you.

Visit the KSRE Difference Makers Facebook page and share your food experience or share on social media with #deichallenge.