November 30, 2021
Thankful for Our Mission and Profession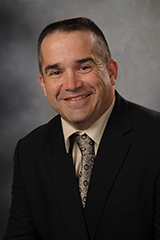 Somewhere, a 4-H junior leader -- whom you and your 4-H volunteers have empowered through your 4-H and youth development programs -- is being interviewed on the local news channel for her community service project that established a dog park in the town.

At the same time, your ANR agent colleague is working with KCARE, crop and livestock specialists to provide research-backed education to a group of producers to enable them to enhance production and improve water quality in the local watershed.

Meanwhile, a group of concerned citizens, health professionals and local officials are announcing plans to expand health care in your region. Plans that would not have happened had it not been for facilitation provided by your FCS agent colleague and one of our community vitality specialists.

We are empowered through our extension mission to enable the people of Kansas to dramatically improve their lives, livelihoods, communities, state, nation and world through impactful research, education and facilitation. We get paid to do this because it is in the public good to do so.

There could be more meaningful and noble missions and professions in the world, but -- for me -- ours wins the penultimate prize.

I am thankful for our mission and profession. I hope you are, too.