April 12, 2022
The Community Health Corner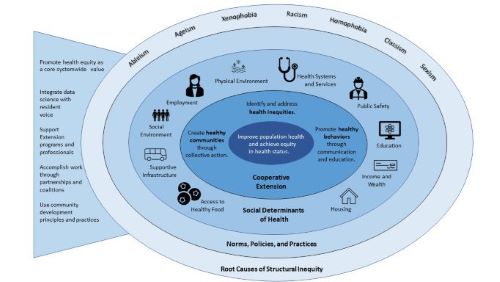 Community health uses science-based approaches for the greatest health benefit to the greatest number of people by addressing the social, economic and structural drivers that impact health. The National Extension Framework for Health Equity and Well-being recommends health equity and community approaches to ensure that every person has the opportunity to "attain his or her full health potential," and no one is "disadvantaged from achieving this potential because of social position or other socially determined circumstances." The following tools and resources can be used to improve health equity and well-being working with communities.
THINK NOW: As reported by Sherman Smith, writing for the April 9 edition of the Kansas Reflector, Kansas public health officials learned about behavioral science and why many pandemic messages failed. Dr. Derek Reed, professor of applied behavioral science at KU, presented results from studies of COVID vaccination messaging based on the science of behavioral economics. His findings align with the use of Appreciative Inquiry to positively discover common interests and steps forward around challenging health topics like vaccinations.
READ NOW: The CDC/Division of Nutrition, Physical Activity and Obesity (DNPAO) reports that Water Filter Use (WFU) is associated with more water, lower sugary drink intake. In a study of 4,042 adults, using a water filter was associated with higher tap water and lower sugary drink intake, according to a study published in January. This study is important because sugar-sweetened beverages are the leading source of added sugars in the American diet which can contribute to chronic health conditions like diabetes.
LEARN NOW: Recent Johns Hopkins Bloomberg School of Public Health Expert Insights newsletters include articles about the Power of Boosters and information about the FDA's authorization for a second round of boosters for 50+. The FDA announcement is here.
REMINDER: If you have not already done so, please complete ECOP's anonymous Extension Health Framework survey to share your point of view about Extension's vaccination education efforts before April 30. KSRE is one of 13 state Extension systems asked to participate in the survey which is available here.
For more information, contact Elaine Johannes, ejohanne@ksu.edu; and Stephanie Gutierrez, smgutier@k-state.edu.