April 12, 2022
Get Caught Up on Vaccines KSRE & IKC Webinar Series
Submitted by Malayna Webb and Elaine Johannes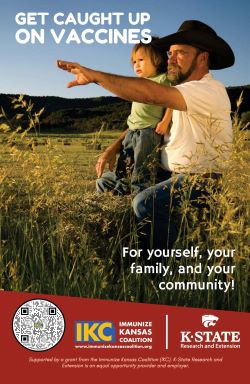 The global pandemic has increased our awareness of wellness vaccinations that prevent flu, HPV, shingles, and MMR. KSRE, in partnership with IKC (Immunize Kansas Coalition), is hosting three webinars held 12 - 1 p.m. for the next three Tuesdays focused on the history of vaccination, their benefits and challenges. Join us for:
• April 19 (12 - 1 p.m.) History of Vaccines
• April 26 (12 - 1 p.m.) Community Conversations: Navigating Challenging Topics
• May 3 (12 - 1 p.m.) Vaccine Access and Equity
Each webinar features IKC staff, state leaders and opportunities for discussion. A recording of each session will be posted on KSRE Teams after the webinar.
Registration for the Get Caught Up on Vaccines: 3-session webinar series with IKC and KSRE is here.
If you have questions, contact:
Malayna Webb, malaynawebb5@ksu.edu (MPH student and EXCITE Project Assistant); or Elaine Johannes, ejohanne@ksu.edu.