April 19, 2022
Today at Noon: Get Caught Up on Vaccines KSRE & IKC Webinar Series Begins
Submitted by Malayna Webb; Elaine Johannes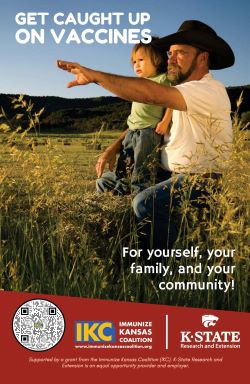 KSRE, in partnership with IKC (Immunize Kansas Coalition), is hosting three webinars held 12 - 1 p.m. for three Tuesdays focused on the history of vaccination, their benefits and challenges. Join us today, April 19, 12 - 1 p.m., for a conversation about the History of Vaccines.
The next webinars are:
• April 26 (12 - 1 p.m.) Community Conversations: Navigating Challenging Topics
• May 3 (12 - 1 p.m.) Vaccine Access and Equity
Each webinar features IKC staff, state leaders and opportunities for discussion. A recording of each session will be posted on KSRE Teams after the webinar.
Register here for any and all of the IKC/KSRE "Get Caught Up on Vaccines" webinar sessions.
If you have questions, contact:
Malayna Webb, malaynawebb5@ksu.edu (MPH student and KSRE EXCITE Project Assistant); or Elaine Johannes, ejohanne@ksu.edu.