January 7, 2020
Pam Van Horn Retirement Reception from Kansas State 4-H Office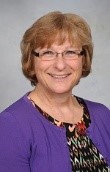 Pam Van Horn has announced her retirement effective Monday, January 13, 2020, after 37 years of service to Kansas State University Research and Extension, notably in Saline County, Central Kansas District, and the State 4-H Youth Development Office in Umberger Hall.

Please join us in celebrating Pam Van Horn's service and dedication to the people and youth of Kansas through K-State Research and Extension since 1983! The 4-H Youth Development Department will host a come and go reception on Friday, January 10, from 3 to 4:30 p.m. at the Kansas State Alumni Center.

Please send photos that you may want to share in a slideshow to dsratlif@ksu.edu by January 7.

Any cards, please send to:
Pam Van Horn
c/o State 4-H Office
1612 Claflin Rd, 201 Umberger
Kansas State University
Manhattan, KS 66506
Or email at pvanhorn@ksu.edu
Pam Van Horn has been known as a professional dedicated to the betterment of Kansas Youth through 4-H! Her passion and advocacy for young people has been evident throughout her career. Van Horn's career highlights during her service as a Statewide 4-H Youth Development Specialist since 2006 include:

* strengthened the 4-H partnership with the Department of Animal Science,
* established substantive revisions to the 4-H Shooting Sports Education program,
* provided statewide leadership to the 4-H Cloverbuds program for early elementary aged youth,
* served as President of the National Association of 4-H Youth Development Professionals,
* coordinated three Camp Corrals for military youth that had been traumatized by the loss or significant injury to a family member, and
* jointly coordinated the Legislative Animal Showmanship Contest at the Kansas State Fair.

From 1983 until 2006, she served as a County and District 4-H agent in Saline County and later the Central Kansas District where she served local youth and worked with families to help grow productive and community engaged youth! Highlights included how she accomplished the local Master 4-H Volunteer program and created the Saline County 4-H Development Fund to support ongoing 4-H youth development work.

Please join the whole 4-H Youth Development Department as we wish Pam Van Horn the very best in retirement.