April 5, 2022
Are You Smarter Than a Freshman?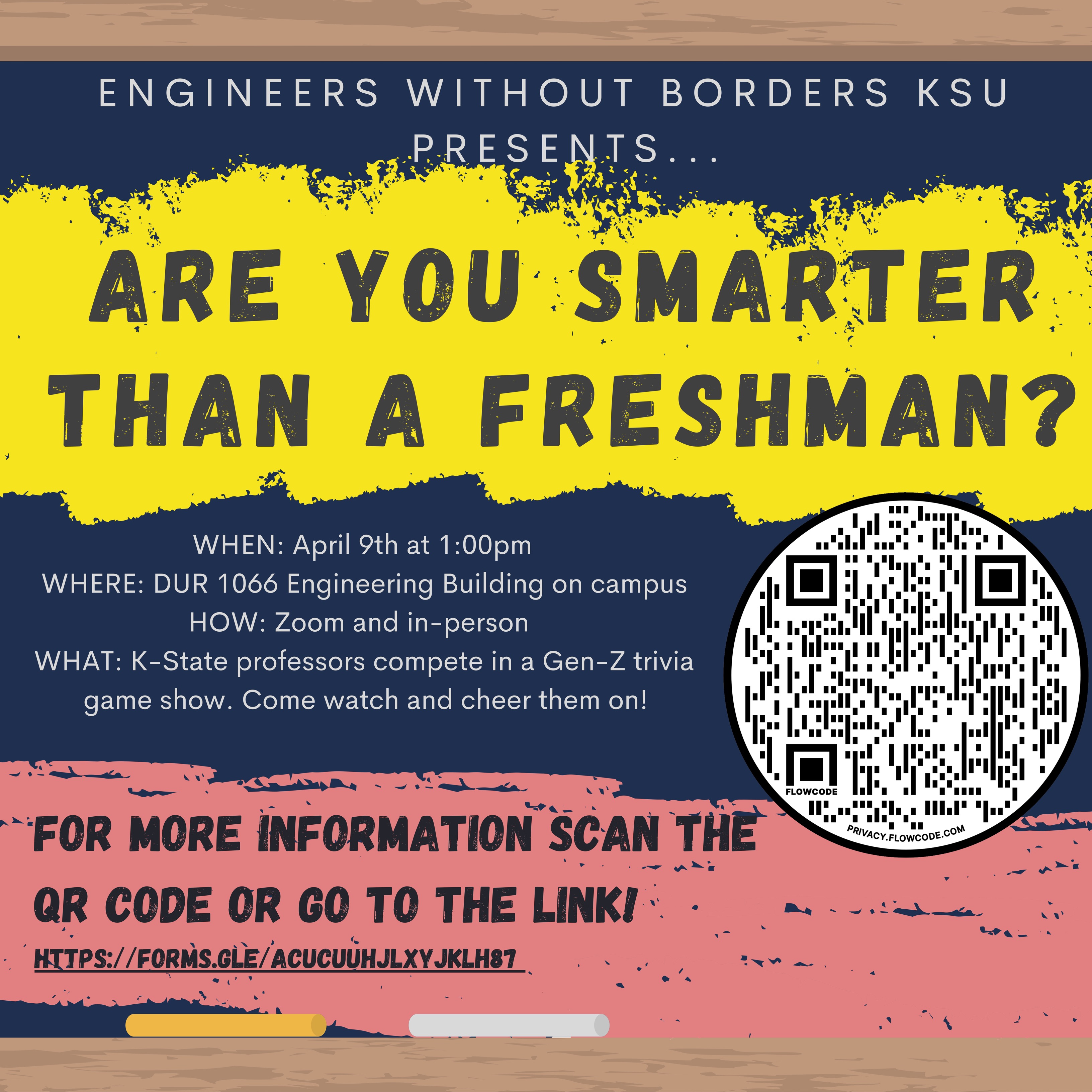 WELCOME to K-State's season premiere of "Are You Smarter Than a Freshman?" airing on April 9 at 1:00 p.m.!
Each year, professors from departments across campus are invited to participate in the "Are You Smarter Than A Freshman?" fundraiser event. Our twist on the familiar game show pits these K-State faculty members against each other in a competition to see who is the most fluent in youth culture! Our competitors this year are Dr. Martha Smith Caldas (Division of Biology), Dr. Craig Spencer (Department of Mathematics), Professor Lauren McDaniel (Department of Kinesiology), and Professor Derek Clements (Department of Architectural Engineering). From internet trends to Gen-Z slang, watch as your peers duke it out from the comfort of your home or in the live audience.
Plus, unlike most boring TV shows, YOU will have the opportunity to affect the outcome of the competition! During the event, audience participation will play a key role in deciding the winner. And, if you want to get in on the action now, all you must do is submit a trivia question beforehand. Who knows, it may end up in our final production!
Click this link to RSVP for the event and submit your questions: https://docs.google.com/forms/d/e/1FAIpQLSfBYP344r9bQvSJrzawwHwY_ALRa7-U0ynSPwiKvMBVU6rxBw/viewform?usp=sf_link.
In addition to being a fun opportunity, the funds raised during the event will go towards a great cause. Engineers Without Borders-KSU aims to cultivate future leaders through partnerships with local and international communities to implement sustainable and long-lasting engineering solutions driven by the community's needs, resources, and constraints. To learn more about EWB-KSU's projects and memberships, visit our website: https://ewbksu.wordpress.com/.