March 28, 2017
Jamie Kidd Announces Retirement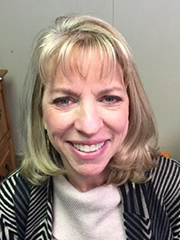 Jamie Kidd, Shawnee County Horticulture Agent, has announced her retirement effective May 7. Jamie joined the Shawnee County staff in 2008. During her tenure the number of active Master Gardeners has grown to over 160.

Jamie looks forward to spending more time with her husband, Bill, who is a state legislator in Missouri. They have six grandchildren and are expecting a seventh in August.

We hope you can join us to honor Jamie at a reception on Friday, April 28. The event will be at the Shawnee Lake Garden House located in the Ted Ensley Gardens, 3720 SE Yacht Ct., Topeka, KS 66609. Guests are welcome to drop in and visit with Jamie between 3 - 6 p.m. A brief program is scheduled at 4:30 p.m.

Cards or letters for Jamie can be sent to Cindy Evans at 1740 W Western Avenue, Topeka, KS 66604.