March 28, 2017
Wildfire Awareness & Preparedness Public Meeting Tonight
Submitted by Jennifer Williams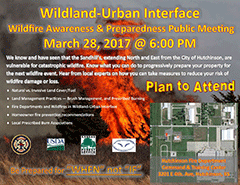 We have seen that the Sandhills are vulnerable for catastrophic wildfire. Know what you can do to prepare your property for the next wildfire event. Join us tonight at 6 p.m. at the Hutchinson Fire Department Command and Training Center, 3201 E. 4th Ave. in Hutchinson, KS to hear from local experts on how you can take measures to reduce your risk of wildfire damage or loss. Topics include:

- Natural vs. invasive land cover/fuel
- Land management practices; brush management/prescribed burning
- Fire departments and wildfires in the wildland-urban interface
- Homeowner fire prevention recommendations
- Local prescribed burn associations

Event is on the Kansas Forest Service website under "News & Events."