March 28, 2017
Diane Burnett, Making a Difference in Community Development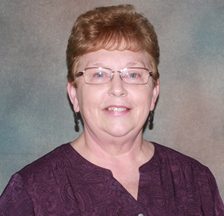 Diane Burnett is the District Director for the Marais des Cygnes District. She is a Family and Consumer Sciences agent whose most significant programming is in Family Resource Management (SHICK Counseling, Family Financial Planning and AARP Taxaide tax Prep/Education) and Adult Development & Aging (Keys for Embracing Aging, Medicare Basics, Who Gets Grandma's Yellow Pie Plate and Advance Health Directives, etc.) Many of these programs have a positive economic impact by helping participants have more to spend in the community. A small percentage of her job description includes Community Development work, but it is important work. Diane says, "I have an interest in business and the communities we serve and I see Extension's role as being a partner with the Chamber, city and county government." She is a long-time participant and exhibitor at Chamber events such as the annual Kansas Day event and has hosted their Chamber Coffee meetings. Sometimes Diane takes the lead for her community, like stepping up to host the Board Leadership Series in 2016. By her willingness to host and promote the series, 19 registrants from local organizations and county entities received training in effective Board Leadership.

Sometimes she plays the partner and support role: This fall and winter, Diane helped three cities in her District with First Impressions visits. First Impressions pairs two small communities to learn about existing strengths and weaknesses through the eyes of the first-time visitor. Diane's local community knowledge played a key role in creating two strong visiting teams for Paola and LaCygne. The Paola community meeting was so successful, that nearby Louisburg wanted the opportunity and a city employee took the lead on getting volunteers, so Diane took a support role.

In Miami County, she is working with the Economic Development Director and the local Farm Bureau Association to establish a Barn Quilt Trail. Barn Quilt Trails are a national grassroots art movement to increase interest and visitors to rural America. District Extension staff will record the information submitted on a data base and she has a goal to get the same project going in Linn County during the coming summer. She will promote the project to encourage tourism throughout the two counties in the Marais des Cygnes District.
Diane is proud of Linn Valley PRIDE and attends when they host state officials or public meetings. She lent Extension's support to entrepreneurship classes when Network Kansas was coming into the area in 2013.

Sometimes a local agent's role is leadership; sometimes it is providing support or the missing administrative roles. Hats off to Diane Burnett for being ready to lead from any position!