November 2, 2021
The Community Health Corner
Submitted by Elaine Johannes and Stephanie Gutierrez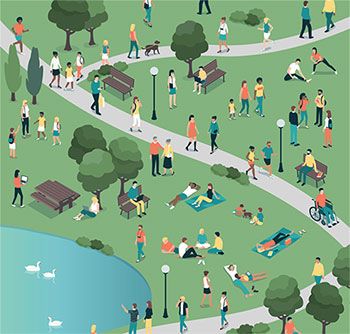 According to the CDC, community health uses science-based approaches for the greatest health benefit to the greatest number of people by addressing social, economic and structural drivers that impact health. Addressing policies, conditions and inequities that contribute to the poor health of Kansans is the most effective way to tackle big health issues. Being healthy is not just about individual choices, it's also about the conditions that influence everyone's health.
REGISTER NOW: November 4 (Thursday); 9 - 11 a.m. (central time) Join Kansas Health Institute, Kansas Hospital Association, Kansas Food Bank and Harvesters in conducting the County Health Rankings: Addressing Food Insecurity virtual event. Register here to learn from communities across Kansas about their efforts to increase access, availability and affordability of healthy foods.
PLAN NOW: Attend the November 18 (Thursday); 10 - 11:30 a.m. (central time) Association of Maternal and Child Health (AMCHP)'s Global Health Workgroup discussion of Climate Change Threats To Progress in Global Maternal and Child Health: How Did We Get Here and What Can We Do About It? Panelists discuss policy making and activism for people and groups around the world to solve this pressure issue. Register here.
READ NOW: 2022 State of Mental Health in America Report. For the 8th year in a row, Mental Health America (MHA) released its annual State of Mental Health in America Report, which ranks all 50 states and the District of Columbia based on fifteen mental health prevalence and access measures for youth and adults. The 2022 State of Mental Health in America report confirms the trend that mental health in the U.S. continued to get worse leading into the COVID-19 pandemic. Based on the 15 measures, Kansas ranks 42nd of the 51 states and DC in adult mental health and 26th in youth mental health. This report also contains two spotlights on policies that can improve access to mental health resources in the U.S. – 988 implementation and increasing mental health education and supports in schools.
For more information contact Elaine Johannes, ejohanne@ksu.edu; Stephanie Gutierrez, smgutier@k-state.edu.