November 16, 2021
Free Webinar-Planning in Uncertain Times: Farm & Ranch Estate and Income Tax Planning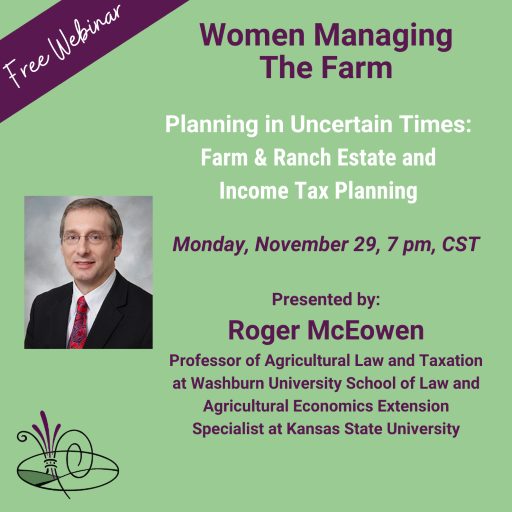 Women Managing the Farm and K-State Department of Agricultural Economics presents a free webinar November 29, at 7 p.m. CST with Roger McEowen to provide factual, up-to-date information for farm and ranch families to assist in estate and tax planning.
Uncertainty about the future of applicable laws can make the already difficult process of estate and tax planning even more challenging. However, there are some foundational truths and tools available to farmers and ranchers.
Roger McEowen is a Professor of Agricultural Law and Taxation at Washburn University School of Law and Agricultural Economics Extension Specialist at Kansas State University.
The webinar is open to the public; please feel free to share with friends, family and community members.
7:00 p.m. C.S.T. Monday, November 29, 2021
Registration is required and available here: https://ksu.zoom.us/meeting/register/tJUoce2grzkpGNWIh3XrHpyn4sd-ohi6_cnT.
For questions, contact Robin Reid at robinreid@ksu.edu.