November 16, 2021
The College of Agriculture/KSRE Diversity Programs Office and MANRRS Week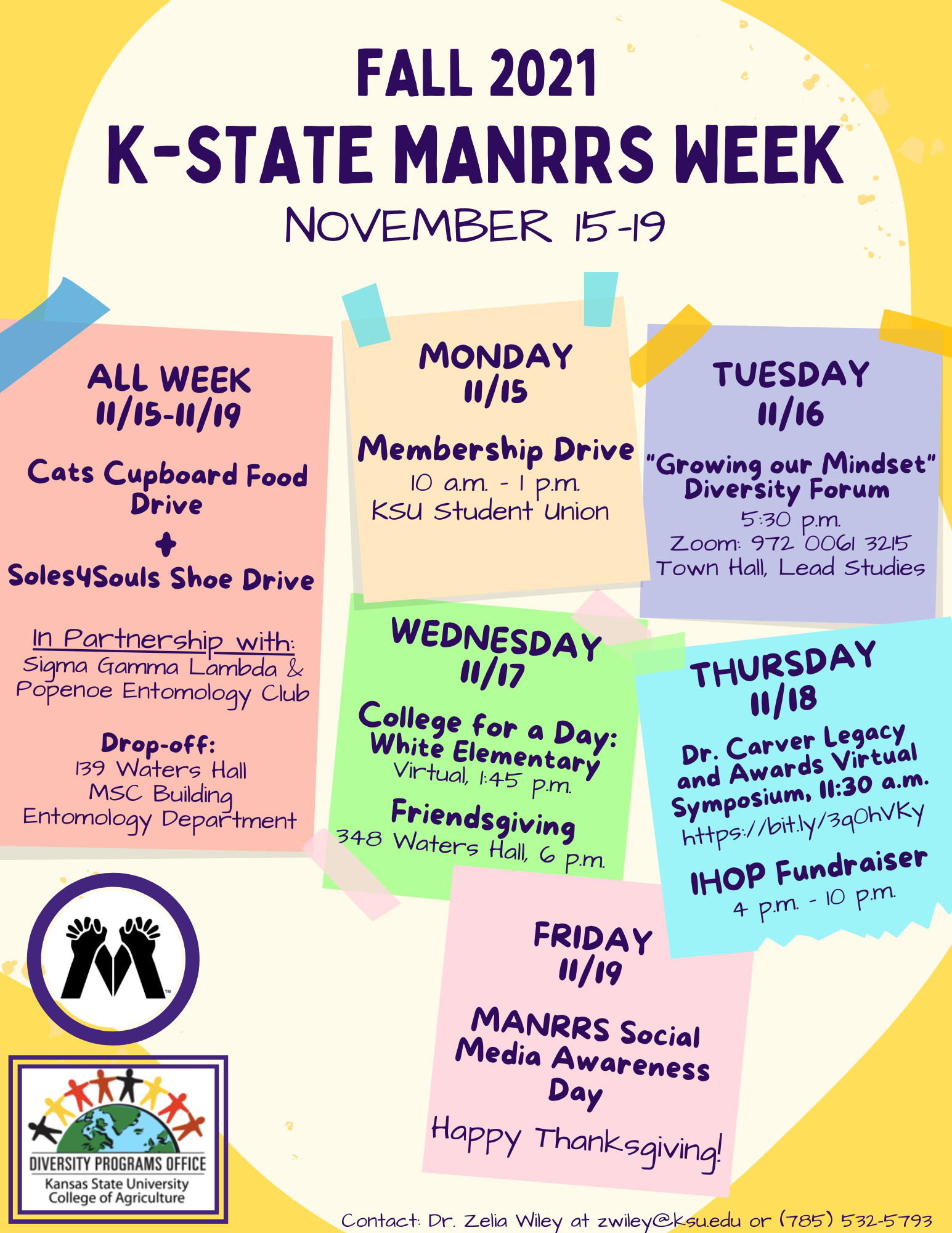 Happy MANRRS Week! The K-State Minorities in Agriculture, Natural Resources, and Related Sciences (MANRRS) Chapter invites you to participate in the many events they will be hosting and partnering in throughout the week of November 15-19. To kick off MANRRS Week, the MANRRS chapter is partnering with the Popenoe Entomology Club and Sigma Lambda Gamma, National Sorority, Inc. in hosting a week-long Cat's Cupboard Food Drive and Soles4Souls Shoe drive. The drop off will be in 139 Waters Hall.
Tuesday, November 16, at 5:30 p.m. the College of Agriculture student leadership will host the Fall 2021 "Growing our Mindset" forum in Town Hall of Leadership Studies or join via Zoom (ID: 972 0061 3215). The forum will feature James Millsap, Manager of Inclusion and Diversity at Dick Sporting Goods and 2010 K-State College of Agriculture Alumna. He will discuss the importance of diversity in the workplace. The event promises to be a great conversation, so please join us!
Wednesday, November 17, MANRRS will partner with the DPO in presenting a virtual College for a Day event with the William Allen White Elementary School at 1:45 p.m. Then, the chapter will celebrate their friendship and thanksgiving during Friendsgiving at 6 p.m. in Waters Hall, room 348 for K-State MANRRS students.
Thursday, November 18, at 11:30 a.m. (CST) the DPO and K-State MANRRS are partnering with Lincoln University (host), Tuskegee University, Iowa State University, and Simpson College to celebrate the annual Dr. George Washington Carver (GWC) Innovation Leadership and Awards Symposium, "Minority Land Loss and Restorative Justice." The event will be virtual, (register at https://bit.ly/3q0hVKy), and will feature a panel of renowned scholars. Congratulations to Sanders Barbee, K-State junior in Agricultural Economics and K-State MANRRS Secretary, in being named a 2021 GWC Scholar! After the symposium, K-State MANRRS will be hosting an IHop fundraiser from 4-10 p.m, so go enjoy some pancakes and great food!
Finally, on Friday, November 19, MANRRS will raise awareness for the organization with MANRRS Social Awareness Day, so please support K-State MANRRS and the Diversity Programs Office on social media.
From the Diversity Programs Office and K-State MANRRS, have a great Thanksgiving!
Thank you for your support of our programs and efforts. Please continue to join us throughout the semester. Continue to look for more diversity news and events as we continue to advertise. If you require any additional information about these events, please contact Dr. Zelia Wiley at zwiley@ksu.edu or 785-532-5793.