November 16, 2021
Thankful for Volunteers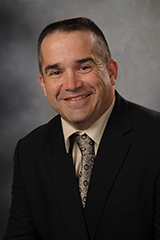 As we move into a period of thanksgiving, I would like to encourage all of us to thank our volunteers for the work they do. Extension cannot function effectively without our volunteers.

Programmatically, we have our 4-H Youth Development, Extension Master Gardener, Extension Master Food and Extension Master Naturalist volunteers. These dedicated people come to us because they are passionate about their subject matter, take volunteer development training for the right to be volunteers, and provide thousands of hours of service to the people of Kansas and our system.

They greatly expand the capacity of our extension professionals. In fact, volunteers contributed more than 167,061 hours between 2020 and 2021. We would have needed 83.5 additional extension professionals to do the same amount of work without the help of our volunteers.

Administratively, we have our Program Development Committee, Extension Boards and State Extension Advisory Committee member volunteers. Many of these volunteers run in an election for the right to volunteer for us in these capacities. Program Development Committee members provide our local units with input and feedback regarding needs analysis, program delivery and program evaluation.

Some of our Program Development Committee members go on to become Extension Board members. Our Extension Boards make our Cooperative Extension Service unique. We are one of only three states that have a shared governance structure with our local units. With the help of regional directors, Extension Board volunteers provide leadership and oversight to 21 district and 46 county local units.

Some of our Extension Board members run in an internal, system-wide election to become State Extension Advisory Council and Kansas Citizens for Extension Education members. As State Extension Advisory Committee members, these volunteers provide me and the extension administration team with input and feedback on a variety of issues that affect or should affect our system.

In their roles with Kansas Citizens for Extension Education, these volunteers provide education to our elected local, state and federal officials regarding our impact for the people of Kansas, and serve as advocates on our behalf for the elected officials' continued support of K-State Research and Extension.

Volunteers greatly expand the reach and effectiveness of K-State Research and Extension. Please join me this Thanksgiving season in sending them an expression of appreciation and gratitude for their service to the people of Kansas and K-State Research and Extension.