January 10, 2023
KSRE Orientation to Healthy Kansas 2030: Aligning for the Grand Challenge for Health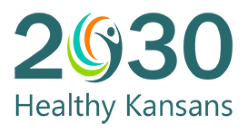 The Kansas Department of Health and Environment (KDHE) has released the Healthy Kansas 2030 (HK2030) plan for the health and well-being of all Kansans, and its priority areas align with the KSRE Grand Challenge for Health. Start the new year by reviewing the plan and the results of the comprehensive state health assessment.
Join any or all of three zoom discussions of HK2030, and learn how boundary spanning leadership can support progress toward HK2030 objectives. Register for zoom discussions scheduled for:
January 13 (Friday) 9 -10 a.m. Register here
January 13 (Friday) 3 - 4 p.m. Register here
January 17 (Tuesday) 12 - 1 p.m. Register here
Contact Elaine Johannes with questions or more information.